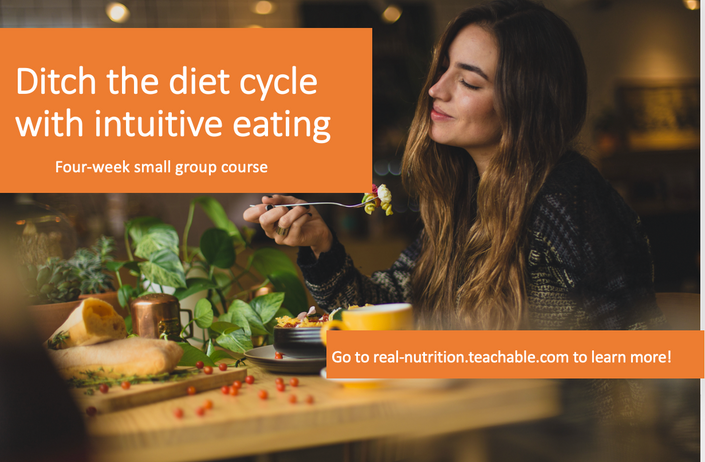 October 2021 Live Course: Ditch the Diet Cycle with Intuitive Eating
Happening Oct 2021
Have you heard about intuitive eating and wonder what it's all about? Or learned but need support or a "refresher?"
Been dieting but getting nowhere?
Searching for peace with food?
Confused about what and how to eat?
Learn how to eat without restriction, shame, or guilt, while still honoring your health.
This exclusive small group course is for you!

Together we'll learn what the 10 principles of Intuitive Eating are, and how to apply them in your life to get off the diet train and learn how to nourish your body without restriction or bingeing.
Intuitive eating is a framework to create a healthy relationship with food, mind, and body. It encompasses both mental and physical health. It's a way of living, not a temporary diet. It's based in attunement and trusting your body's cues to understand how much, when, and what to eat for health, nourishment, and enjoyment.
It's also backed by over 120 scientific studies! Intuitive eaters have enjoyed better blood sugar management, lower stress levels, increased satisfaction with food choices, and many more positive outcomes!
Heath professionals including dietitians, therapists, coaches, trainers, etc. are welcome!
In this small group course you will learn actionable, useful steps to use intuitive eating to improve your life. We will explore:
The 10 principles of intuitive eating
How to ditch the diet cycle
How intuitive eating can help you find food freedom
How you can make small steps toward intuitive eating
How to identify food rules that may be holding you back
How to tune into body cues like hunger, fullness, and satiety
Are you ready to join us for four weeks of life-changing learning?
This course will be a mixture of both live and on-demand content. It includes:
60 minute small group live virtual meeting (replay available)
Journaling sheets, prompts, and cheat sheets for each week
Free webinar replay of "Intro to Intuitive Eating"
Private Facebook group for the duration of the course to get extra support and ask questions
Week 1:
Reject the diet mentality
Honor your hunger
Week 2:
Make peace with food
Challenge the food police
Week 3:
Feel your fullness
Discover the satisfaction factor
Cope with your emotions without using food
Week 4:
Respect your body
Exercise--feel the difference
Honor your health with gentle nutrition
The course curriculum will be available as each week progresses. You won't be able to see the whole curriculum now, but you'll have access to it week by week. Once you finish the course, it's yours forever--you can access as many times as you want!
This course starts October 27, 2021. Live 60-minute workshops will take place Wednesdays Oct 27, Nov 3, Nov 10 and Nov 17 at 5pm Pacific time. Replays will be available if you can't make the live session. You will get links to the live sessions the week prior.
We highly recommend purchasing the book "Intuitive Eating" by Evelyn Tribole and Elyse Resch before starting this course. It's available on Amazon.
This course needs at least five enrollments to run it. If you enroll, but there are less than five people, you will be notified and refunded before the course starts.
Join my other clients who have found joy and peace with Intuitive Eating.
"I learned so much from the materials presented, the work sheets...and Marisa's presentations. The concepts presented are life-changing and easy to implement in everyday life. I have a new outlook! Thanks so much!"

"I loved this class. The live sessions were extremely helpful to me"
"Before I took Real Nutrition's course on Intuitive Eating, I really did think it meant "eat whatever you want," and I was confused. It turns out, though, that Intuitive Eating is about being mindful, and tuning in to what is happening in your body, and then letting that drive your choices and decisions around food. It's an approach that we use when coaching athletes in sport, so it was so refreshing to see a similar approach used with eating. Just as we do when coaching an endurance athlete about racing, Real Nutrition's course taught me to abandon unhelpful and overly strict rules around food, allowing me to relax around food and be myself. This is only one of the insights in Marisa's excellent course, but it was the most profound one for me. I would recommend it heartily to anyone."
--Chris Bagg, Head Coach and Founder, Chris Bagg Coaching Group chrisbaggcoaching.com
"The time and resource investment that I made to work with Marissa has been life changing. When I first reached out, I had reached a bottom point where food had lost all interest or joy because I was so stressed about what to eat, when and how that would impact my body composition and athletic performance. Food had become the largest stress point and I was at my whit's end. Through working with Marissa, I have been able to completely switch that around to truly enjoying food again. Through our 1 on 1 sessions and the Intuitive Eating class, I am now in a position where I can make smart choices about what and when I eat but not let that be something that demands a large amount of my emotional and mental capacity. More importantly, I have been able to learn to accept what my body for what it can do as opposed to constantly having negative thoughts about what I want to change. It has been a truly freeing experience and I will forever be grateful!" ~ Kirby A.
"I have been running on the hamster wheel since I went on my first diet at 23 years old. I've had an unhealthy body image since my teens. I constantly compared myself to every girl who was smaller, prettier and in my mind better than me. I was never fat, but I didn't know that. When my doctor (yes my actual primary care physician) gave me a diet plan and I lost 20 pounds it was exciting, and I have been chasing that high all my life. The saying that I wish I was as fat now as I was when I first thought I was fat is so true. Weight gains and losses, binges, purging, food restriction, guilt, shame...have all been my bed fellows for the past 24 years. When I found Marisa Michael it was to, yet again, find the help I needed to lose weight and master my "demon food". I never would have guessed that Marisa would change me in ways I had not expected. She introduced me to Intuitive Eating. Learning to feed myself based on feelings of hunger and fullness was something I could barely wrap my head around. You mean health and wellness isn't just a number on a scale?! What! I have learned and continue to learn to eat when I'm hungry, to stop when I am full, to eat regular meals and snacks and to choose foods that I need (sometimes want) the most. I'm no longer bingeing or purging. It still takes conscious thought and effort at times but it's easier every day. Most importantly I've learned patience with my food and I've gotten off of the diet train forever. Every time I doubted the process (and there were a few), once I met with my amazing dietician guru Marisa she continued to advise me and encourage me to continue the process and work. Each time I would follow her advice and my intuitive eating skills would grow. I would grow. I knew I was on the right track. For anyone who wants to get off the diet train and learn to love food, love themselves and live life to the fullest Marisa Michael can lead you there. I am thankful everyday that I met her." ~Angie Sauer
"Working with Marisa was really helpful for me. I was able to let go of my anxiety around food and body image and instead focus on establishing consistent healthy habits that help me feel good. I went from constantly worrying about my body size, my weight, and what or how much I was eating to feeling calm and peaceful and enjoying a positive, happy relationship with food. Marisa is very positive and encouraging. She helped me to make long-term changes, including establishing regular exercise routines, increasing my awareness of my body's needs and signals, and making time for healthy eating a priority. She was great at giving me small, "do-able," concrete assignments and then providing accountability and feedback. She also helped me evaluate what was working and not working for my body and how to set goals and make decisions based on what worked for me. She has a thoroughly sane and sensible approach to the highly-charged topics of weight loss, food and exercise. I highly recommend her." ~Karen
Your Instructor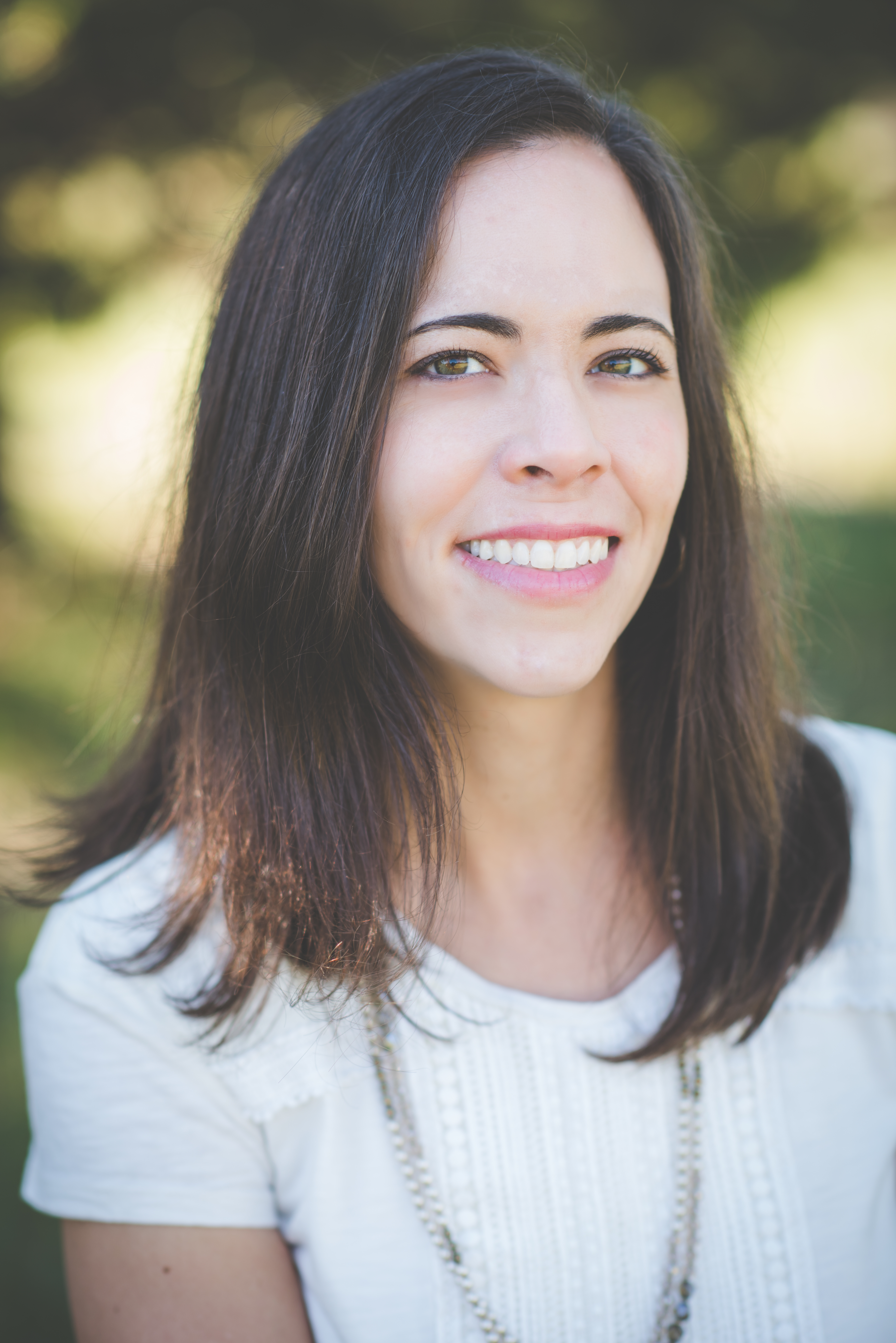 Marisa Michael is passionate about helping you achieve better health and performance through nutrition! She has helped hundreds of clients learn how to implement meaningful, powerful nutrition strategies in their own lives. Marisa has a deep professional and practical knowledge of nutrition and how it affects performance. She's a recreational athlete with real-world experience with fueling and hydrating.
Her formal education and training include:
Registered Dietitian Nutritionist
Master's of Sports Nutrition from the University of Stirling
International Olympic Committee's Diploma in Sports Nutrition
Board Certified Specialist in Sports Dietetics
Certified Personal Trainer
Certified Group Exercise Instructor
Marisa believes that food and exercise should be enjoyable and bring pleasure and richness to life.
Course Curriculum
Welcome pack: Read before Week 1 live session
Available in days
days after you enroll
Week 1: Reject the Diet Mentality; Honor Your Hunger
Available in days
days after you enroll
Week 2: Make Peace with Food; Challenge the Food Police
Available in days
days after you enroll
Frequently Asked Questions
When does the course start and finish?
The course starts on October 27, when you will have access to Week 1 curriculum. You have access to the Welcome Pack as soon as you enroll. You will have access to the remaining weeks' curriculum week by week. Live sessions will take place Nov 3, 10, and 17 at 5pm Pacific time. Replay will be available if you can't make the live session. Once all live sessions have taken place, you will have lifetime, on-demand access to all course material.
How long do I have access to the course?
How does lifetime access sound? After enrolling, you have unlimited access to this course for as long as you like - across any and all devices you own.
Thank you! Upon enrollment, you will receive a welcome packet with all the details and goodies to get you started on your path toward becoming an intuitive eater!